Appetizer – 10 portions
Servings
10 persons,
Preparation time
10 minutes,
Cooking time:
8 minutes
Ingredients
150 g lamb mince or lean minced beef
1 slice of stale white bread, turned into fine crumbs
50 g Greek feta, crumbled
1 tablespoon fresh oregano, finely chopped
½ tablespoon grated lemon peel
Freshly ground black pepper
Round, shallow oven dish, 15 cm
Tapas forks
Directions
Preheat the AirFryer to 200°C.
Mix the mince in a bowl with the bread crumbs, feta, oregano, lemon peel and black pepper, thoroughly kneading everything together.
Divide the mince into 10 equal portions and form smooth balls, using damp hands.
Put the balls in the oven dish and place this dish in the basket. Slide the basket into the AirFryer. Set the timer to 8 minutes and bake the mince balls until they are nicely brown and done.
Serve the meatballs hot in a platter with tapas forks.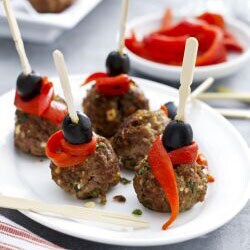 Our site can best be viewed with the latest version of Microsoft Edge, Google Chrome or Firefox.