Johannesburg, South Africa – Philips is proud to have sports journalist, Udo Carelse associated with their PowerTouch & SensoTouch range.  Following his studies at the University of Cape Town where he obtained a BA degree, he landed a coveted position working at KFM as a news anchor for three years, and next progressed to Talk Radio 702 and 567 Cape Talk where he now hosts Sports Talk.
Udo's involvement in television started when his 'tell-it-like-it-is' style of sports commentary and his satirical way of expressing himself got him noticed by producers of the Television Sports Preview Show. Instead of just plying his craft behind the scenes though, Udo was thrust into the deep end of also having to co-anchor this highly popular TV show. After that experience, Udo successfully produced and presented e-TV's satirical That Sports Show for two years, while also holding the position of sports anchor and news editor at YFM, South Africa's biggest youth radio station.
As if all these roles weren't enough to keep him busy, Udo is also actively involved with lecturing at Boston Business Campus as part of a radio course; running a mentorship programme for the youth in his home town of Atlantis in the Western Cape; and presents and writes for TV.  Working within the media field in South Africa is something he is extremely passionate about, and he is excited about the endless possibilities that lie ahead for broadcasting in SA.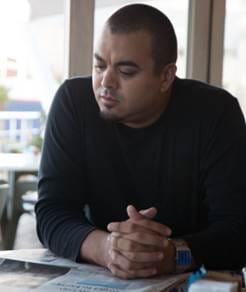 In terms of style, Udo is very much his own man and tends to dress himself, focusing on a casual and comfortable style. "I don't really have any style icons, I just like comfort and you'll often find me in jeans or track pants and hoodies, but I also love dressing up…just not every day."
Udo is an advocate of male grooming and insists on sporting a well-styled beard if you're going to go the facial hair route. "Nobody should ever look dishevelled. Look after yourself, man. It's not such a schlep! The only place where I can grow facial hair is my chin, so by default, I started grooming that part of my face. Now I can't imagine getting rid of this little bokbaartjie…it's a part of me, you know?" His individual Philips style is known as The Spero.
Philips is proud to be associated with the enthusiastic and credible sports journalist as he is an idyllic representative for male grooming. "Men identify and resonate with Udo, due to his passion for sport and is wealth of general knowledge, whilst being down-to-earth.  He is well-spoken, takes great care in his grooming efforts and appearance, and yet is the type of guy you would invite to a braai.  He represents the quintessential South African male, which is what makes him an ideal ambassador for the premium Philips range. A guy who loves sports AND stays well-groomed? What more could you want?" exclaimed Jolene Roelofse, Philips Marketing Manager: Personal Care.

The PowerTouch and SensoTouch range reinforces Philips' global and local leadership position in the male electric shaving market and its commitment to bringing innovative solutions to the South African market.
The Philips PowerTouch and SensoTouch range is available at selected retail outlets nationwide. For more information please visit www.philips.co.za or call 086 108 4456.