Johannesburg, South Africa – Philips is proud to its new brand ambassador, stand-up comedian, Paul Snodgrass. Snoddie is many things: sports journalist, TV presenter, radio personality, actor, extreme golfer and rock MC. His role as a comedian plays the biggest part in his life and is where his passion lies, and being a stand-up comedian has provided frequent opportunities for him to travel the world doing what he loves.
Snoddie admits that he also loves the freedom & the travelling that goes hand-in-hand with stand-up. This year alone, he will be performing in London three times. No matter where in the world his comedy takes him though, Paul remains loyal to his favourite place in the world. Cape Town.
As far as personal style goes, Paul describes himself as a bit of a mod kid 'without the typical haircut', infused with some good old Rock and Roll. "Some people call me a hipster," he laughs. "If that means that I dress well, then okay, I'm a hipster." For Paul, it's all about individuality, his Chelsea boots, and staying casual while still being stylish.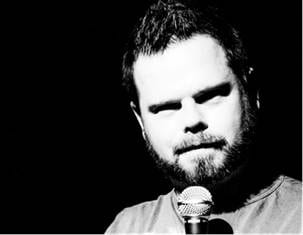 A prominent feature of Paul's style, is his beard, a key element he loves and isn't in a hurry to remove. "A couple of years ago I had this chin-thing going on, and that was a really bad fashion decision. Then I realised that the full beard kind of works for comedy. Without a beard, I look like a 16-year old. With a beard, it looks like I've actually lived long enough to have an opinion." When it comes to male-grooming, he does insist, though, that you've got to take care of your beard and keep it well-groomed. There are very few people out there that can pull-off an untamed beard or a bushy moustache. His individual Philips style is The Snoddie, a phrase he uses for his style of beard.
Philips is proud to have Snoddie on board as an ambassador. "He is such a great guy with the most incredible sense of humour. He expresses himself in a unique way, and that is something that really resonated with us when it came to choosing ambassadors for the brand. Aligned with our global campaign, Express Yourself Every Day, Snoddie stays true to his style and expresses himself as such" says Jolene Roelofse, Philips Marketing Manager: Personal Care,
The launch of the new range of male grooming tools reinforces Philips' global and local leadership position in the male electric shaving market and its commitment to bringing innovative solutions to the South African market.
For more information please visit www.philips.co.za or call 086 108 4456.