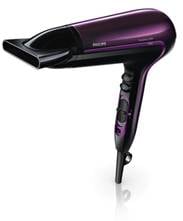 Johannesburg, South Africa – Women can now affordably enjoy a fast, powerful blow-dry that helps keep the hair healthy, with the new Philips ThermoProtect Hairdryer range. ThermoProtect technology allows women to dry their hair comfortably and quickly at a temperature with an optimal drying result and protecting the hair from heat damage. Philips ThermoProtect Hairdryers are elegant, reasonably priced, high-quality styling solutions that offer a lower temperature setting of 57°C without compromising on style or finish.
"At Philips, we know that women want fast and visible results from their hairdryer but are concerned about high temperatures, which can damage hair and feel uncomfortable on the scalp," says Jolene Roelofse, Marketing Manager: PC, Philips Consumer Lifestyle, South Africa. "Our new ThermoProtect Hairdryer range is the result of work with renowned haircare experts to develop a blow-dryer that helps women create exactly the look they want at a more caring temperature."
Dries at optimal temperature, with added comfort
With Philips ThermoProtect hairdryers, women can blow-dry at a temperature setting of only 57°C, which dries hair quickly and effectively without the risk of overheating hair or scalp. The lower temperature setting helps to prevent excessive moisture loss, providing a healthier blow-dry that protects the hair during styling.
Smart design
For its ThermoProtect range, Philips has explored creative design and production solutions in order to deliver an affordable yet desirable dryer range. As a result of their new approach, the designers were able to experiment with textures and colors in a new way, delivering an elegant hairdryer that women can proudly display in their bedroom or bathroom.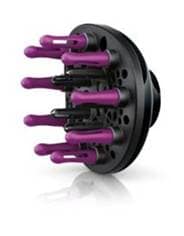 Soft, gentle and easier
In keeping with the care-focused features of the dryer range, the premium Philips ThermoProtect model comes with a unique ergonomically shaped diffuser with soft massaging pins. The diffuser is not only innovatively shaped to naturally follow the contours of the head for more convenience and comfort, but also gently massages the scalp during drying thanks to its special air-cushioned pins.
The Philips ThermoProtect experience
Philips ThermoProtect Hairdryers feature built-in ionic conditioning to help women achieve frizz-free hair
The 'Cool Shot' button directs a blast of cool air once drying is finished, which helps to set the style and add a healthy shine
All dryers in the Philips ThermoProtect range feature three different heat settings and two different speed options to give women complete control when drying their hair
The new Philips ThermoProtect range will be available from May 2013 in selected retailers nationwide. For more information please visit www.philips.co.za or call 086 108 4456.